Do you want to advertise your next sporting event in an original and creative way? Posters are a very effective resource to promote your next sporting event.
We design posters that can be used for meetings, tournaments, sports campuses, membership campaigns or any other event related to the sport you are going to carry out. From the information you provide us, we provide the creative touch and design your poster giving it an original and eye-catching touch to meet your needs.
All the posters we design can be delivered in two formats: ready to print in A4 or A3 size or with the appropriate measures to publish in social networks (both in post and stories). In addition, if you wish, you can have an adaptation for social networks in your printed posters included in the final price. 
We have designed sports posters for various events, such as games, tournaments, group dinners or sports campuses. You can ask for more information and a free quote on the designs and prices of our sports posters.
Another very useful resource to promote your next event are sports flyers. In this case, the flyers we design come ready to be printed in the format that best suits your needs, whether they are single or double-sided brochures, diptychs or triptychs.
From the information you provide us, we take care of creating the design so that the final result is to your liking and you can give an original and striking image to your target audience.
As with the sports posters, the flyers we design also have the option to include an adaptation for social networks for publication and dissemination. You can get more information and a free quote on the designs and prices of our sports flyers.
We are your ideal solution for your sports design needs. We attend to your requests and evaluate the different options to implement, focusing mainly on creativity and customer satisfaction. We adjust our budget to each client and we get personally involved during the creation process of each job requested.
We have made designs for soccer and volleyball clubs, digital media, elite athletes and sports representation agencies, as well as individuals and companies related to sports, which endorse our experience in the sports field. 
Personalized sports posters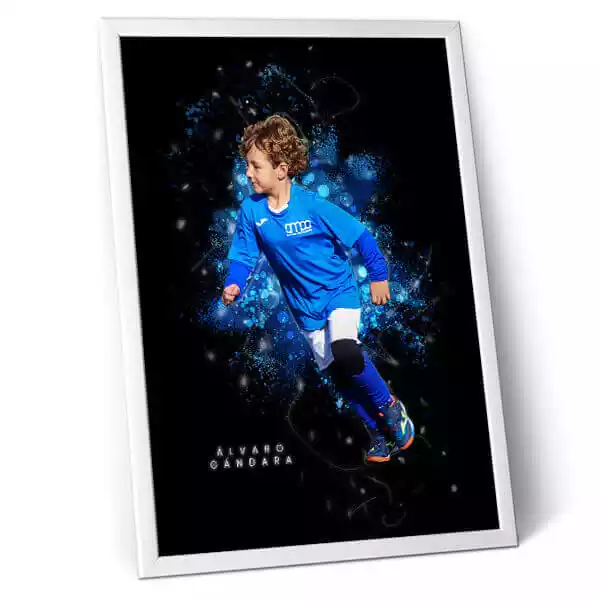 If you are an athlete and want to have a poster with your photo, or if you are looking to surprise someone with a unique and original gift, our personalized sports posters are an excellent choice.
You can send us the photo you want (the better the quality, the better the design) and we will elaborate the design, retouching the photo you provide us with various effects and filters and, if you like the final result, we print it and send it directly to your home by mail.
What else can we do for you?
If you want us to get to work on your project, need more information or want to request a free quote, please fill out the following form or contact us in the following ways:
Follow us in Social Media